---












---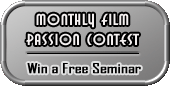 VIDEO STREAMING TESTIMONIALS

Action/Cut prides itself by presenting video streaming testimonials
from our Seminar Graduates.

They have come from across the USA and Canada to attend, and
many from foreign lands. Like you, they were looking for the ultimate filmmaking seminar...from their candid testimonials, they found it!
QUICKTIME

REAL ONE PLAYER

WINDOWS MEDIA PLAYER
If you do not already have a video player, you can download these players for free:
To all our Action/Cut Graduates and Web Visitors, we highly recommend
The Writers Store website for the best prices, service,
and latest software, books, and supplies for writers and filmmakers!